April 8-10. Headed to Portland for our state required adoption training classes. On the way we decided to stop at good ol' Klamoya Casino. I was able to cross off #67 on my 101 list: $.05 slot machine.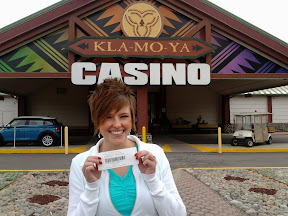 I walked away with a $.10 voucher. Woot! Nic won $15 but we didn't know it at the time because we didn't even know how to play the game. haha He ended up walking away with a $.10 voucher as well. (I felt so out of place)
Don't ask me why he was an "angry elf." Maybe it was his "smolder" look. haha
On the way to Salem/Portland, we stopped at Trader Joe's in Eugene. I wasn't very impressed with their selection of GF products, but we sill walked away with a bag of food (i.e. tortillas, pasta, etc) I did happen to find my GF heaven in Salem: Life Source Natural Foods. They had lots of GF foods! The foods were easy to find because they were marked with a yellow price label. That's where I got my KinniTOOS. Yum. We got a bunch of other stuff to try as well. We are in the experimenting phase. We need to find what I like and then run with it!
We stayed in Salem at my brother and sil's house. Thank you Ben and Sharon! All of my family was in Boise, ID for Bentley Bug's blessing. We missed out. :( We did have a great time at our classes. They were held at The Boys and Girls Aide. There was probs around 30 people or so. All of the couples except us and another couple already had kids. They were either wanting to adopt more or were fostering and wanted to adopt their foster kids. We always sat at the front table with Becky and Eldon. We learned a lot about a bunch of different things (i.e. development, grief and loss, types of abuse, adoption process through them, etc.) It was a good mixture of lecture, power point, videos and some activities. On each of the tables there were balls and toys we could play with during the classes. haha Our instructor was really nice and funny: Johnathan.
Class schedule.
Friday. 630-930.
Saturday. 830-430.
Sunday. 830-430.
There were 2 breaks/day and lunch. They provided drinks and snacks for us everyday. (I had to bring my own snacks. haha) Lunch was on our own. The Boys and Girls Aide is across the street from a "landing" - shops, business offices and restaurants. We ate at ShangHai Noble House (I thought it said nooble) and McAdams Bar & Grill. I felt awkward ordering because I had to be so specific in asking questions about their items. I still ate so no worries.
Us on our last day of classes.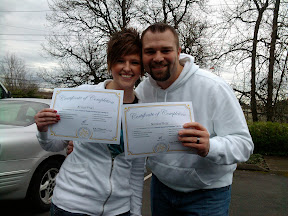 WE GRADUATED! Cute. Our own little certificates. All in all we learned a lot and had a great weekend.